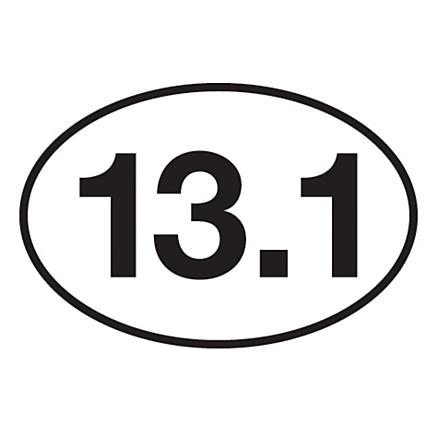 That sticker looks so fucking badass on the back of your crossover that I must now go and change my trousers. I mean seriously?!?!?!?! You ran HALF of the race that people actually give a shit about? A-MAZE-ZING! Not to mention having the wherewithal to buy the sticker afterwards. Otherwise, how would anyone know? You gotta tell 'em sistah!
"You know that race which dates back to ancient times that they run to massive fan fare in Boston, Chicago and New York City? The wreaths of laurel, the Kenyans, the shit-in pants?"
"No way, you ran a marathon? Those are a real bitch, congratulations."
"Well, actually no. I ran half of one of those. A 'Half Marathon'."
"Oh, so it is like you were trying to do the Tour de France, but you just kind of stopped halfway, in Macon?"
"No, that was the whole plan. It is like the Tour de France, only half of it."
"Interesting. I'm sure it was tough. But a sticker for your car….necessary?"
"Fuck you man, you obviously don't get it."
Nope, pretty sure we all get it. You ran for two hours. Not for four hours like the ancients did and which represents an internationally known and respected distance. You ran half of that and feel the rest of us need to know about it. Like we give a fuck. And this is coming from someone who runs all the time, enjoys it, and has done several official races at varying distances. I've run a bunch of "half marathons". Some to train for an actual, factual marathon, the others just because. No 13.1 stickers on my car. Nobody gives a flying fuck. My wife has run a bunch of them and she never really tells anyone about it because, well, nobody gives a flying fuck. If you finish one in under 90 minutes or close I would love to hear about it at a party or something. Maybe over cocktail weenies and a beer. I personally find the half marathon distance to be preferable to a full marathon. But guess what muchacho, only the 26.2 matters. Do you see anyone with an "I made it to Mount Everest Base Camp" sticker on their Subaru Outback? Hell no. Again, if you told me at a party that you went to Everest base camp I'd certainly find it interesting….but no one is going to be running to the bathroom to furiously masturbate over it. Don't get me wrong, a 26.2 sticker on someone's car is obnoxious in its own right, but at least they ran a marathon. I would suspect that most people with a "Harvard" sticker on the back of their car are more than likely a bit of a dickhole, but at the end of the day they graduated from Harvard. A lot cooler than a "Dropped Out of Harvard with 57 Credit Hours" sticker. Mark Zuckerberg certainly doesn't have that sticker on the back of his….whatever that asshole drives. The fact you got into Harvard and managed to finish that many courses is certainly a curiosity. But why didn't you just finish, you were halfway there?
Get over yourself. You run. You run kinda far. You don't run the farthest. Enjoy your 13.1 miles, you'll sleep well tonight. But a sticker? About as cool as a "Cleveland Indians Central Division Champions" tee-shirt. Good season sure, but unless you win the World Series those tee-shirts are only cool in the sub-Saharan African nation they dumped them in after the Indians lost in the American League Division Series. Although it does look sorta boss next to your "OBX" and "MV" stickers. I mean who the fuck has been to the Outer Banks, Martha's Vineyard, AND runs half a marathon? Nuts, dude.